Follow your dream to Torres del Paine in Patagonia!
Join us in Chile's premier park Torres del Paine National Park!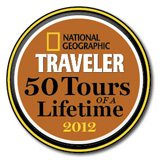 Hike the famous "W" trail on the way to "work," while you scout the sky for condors, gaze on extraordinary mountain peaks, or glance at glaciers. Since 2005, ConservationVIP® has been bringing volunteers to Torres del Paine to improve hiking trails and protect this international treasure. There's a reason National Geographic Traveler Magazine named this destination and our work there one of the top tours of a lifetime!
Torres del Paine Volunteer Dates
One of the world's greatest landscapes, Torres del Paine suffers from soil erosion on overused trails and challenges to wildlife due to encroachment on sensitive habitats. Increasing numbers of visitors have caused unintended problems. With limited resources, Torres del Paine National Park managers struggle to meet these challenges. Our volunteers help with trail building and trail maintenance, making a significant contribution to the protection of this marvelous landscape.
No prior trail maintenance experience is required — trip leaders provide the training — and past volunteers included a wide range of ages and abilities. Tasks vary, but you should be able to hike with a day pack, move soil or rock with a shovel, pull unwanted vegetation, or carry stones. Project sites range in altitude from 500 to 2,000 feet, so while the surrounding mountains are beautiful, elevation is generally not a problem. As always, your education and safety are our priorities.
A general description of activities you can expect on the Torres del Paine itinerary follows. Please note, however, that every trip is unique. Because local conditions and the Park's needs continually evolve, detailed plans are often finalized or revised after the group arrives and the trip leaders review the conditions at the site in light of the capabilities and special interests of the volunteers. As volunteers successfully complete conservation and restoration activities, new activities or areas can be targeted, which may result in a modified itinerary.
Day 1: We begin in Punta Arenas (Sandy Point), at the southern tip of South America. Punta Arenas was an important seaport prior to the construction of the Panama Canal. In 1916, Captain Ernest Shackleton launched the successful rescue of his crew from here, after his ship, Endurance, was destroyed by Antarctic sea ice. We travel along the Strait of Magellan before heading north to the Cerro Negro Ranch, where we stop to see a sheep herding and shearing demonstration. Continuing north, we travel to Torres del Paine National Park, where we will stay at a refugio within hiking distance of the famous Towers.
Day 2: On this rest day, those who wish may hike to see the Towers which give the park its name. Others may choose to rest from the long journey to the Park, enjoying the beautiful vistas surrounding Refugio Las Torres.
Day 3: We will transfer by van and catamaran to Refugio Paine Grande, a mountain lodge with shared accommodations and meals where we will spend the rest of the trip. As we travel through Torres del Paine National Park we may stop to take photographs of the magnificent mountains, as well as guanacos and other wildlife.
Days 4-11: This period is a combination of work days and rest time when you can choose your own activity. We will begin with an orientation and training in all aspects of trail work before engaging in the volunteer work project.
We start each day with breakfast at the refugio. On work days, after picking up a bag lunch, we hike to the work site. Groups of 5-6 volunteers are teamed with an experienced leader. Training in all aspects of the work is provided. We may:
rehabilitate (close) unauthorized trails
cut and move vegetative plugs to camouflage and rehabilitate abandoned trails
use a pick or shovel to out-slope the trails and build water bars to better shed water
clip vegetation with a lopper or hand saw to widen trails for safety
remove rocks from the trail tread with rock bars to reduce tripping hazards
move crushed rock or stone to create a dry walking surface
During rest time, you are free to rest in the refugio or explore the area. Many of our volunteers use these days to hike in the Park. Experienced leaders will offer suggestions for shorter or longer explorations.
Day 12: We leave Torres del Paine and travel by boat and van to Puerto Natales where we share our farewell dinner.
Day 13: After an early breakfast, we depart for Punta Arenas by bus, in time to catch mid-day departures to Santiago and the United States.
Although we do our very best to adhere to this schedule, the itinerary is also subject to change for numerous reasons beyond our control, including weather.
$3,895 
(Note: Your trip expense may be tax-deductible. Please see our Frequently Asked Questions page and consult your tax advisor for details.)
Price includes:
leadership and support staff for volunteer activities
guide leadership on tours
all meals from dinner on Day 1 through breakfast on the final day
hotel accommodations in Puerto Natales
refugio and deluxe platform camping accommodations in the Park
all bus and boat transportation to/from Punta Arenas and within the Park
group tools
orientation and training
park entrance fees
Price does not include:
international airfare to/from Punta Arenas, Chile
medical immunizations
insurance (emergency medical and evacuation insurance is mandatory and can usually be purchased through REI Adventures)
excess baggage charges
airport taxes
alcoholic beverages or soft drinks
gratuities or personal items
Be sure to check out our special projects page for information on the suspended bridges we built in Torres del Paine National Park.
---
About Torres del Paine
Southern Chile and Argentina share an immense, sparsely populated expanse divided by the Andes Mountains, commonly known as Patagonia. Rising from the flat Patagonian steppes with breathtaking abruptness, the craggy mountains of Chile's Torres del Paine National Park are an astonishing sight. Torres del Paine is the crown jewel of Chile's national parks.