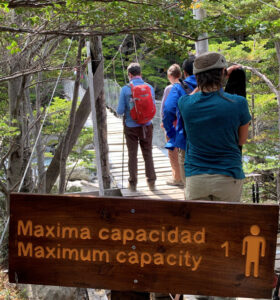 In early 2020, ConservationVIP® volunteers constructed a 120-foot (37-meter) suspension bridge across Rio Frances in Torres del Paine National Park. The bridge across Rio Frances is an important link in the popular "W" hiking trail in Torres del Paine and is located near the end of the new trail which ConservationVIP helped build. The section of the "W" between Refugio Paine Grande and Italian Camp is one of the most heavily traveled trails in the Park, with up to 1,000 hikers per day in peak season.
The old bridge across Rio Frances had deteriorated to the point that it was only safe for one hiker at a time to cross. The new bridge, located about 600 meters downstream from the old bridge, is much safer and has higher capacity.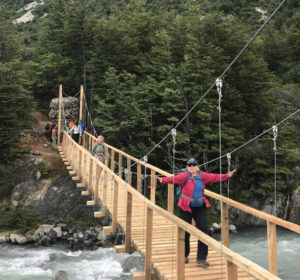 A very generous anonymous donor funded the project. Richard, our volunteer structural engineer, designed the bridge, managed the acquisition of materials and coordinated with the Park.
We are most grateful to our very special volunteers – Grady, Michael and William – who volunteered their time to construct this important project. Their work was supported by the CONAF park managers and park rangers. They were also assisted by local Chilean volunteers for the exhausting task of moving the tons of rock needed for the anchorages.
Perhaps the best way to see the hard work, the fun work, and the satisfaction of working on such a challenging and important project from the point of view of the construction crew is to watch their video about volunteering to build the Rio Frances bridge: