Volunteers helped to make Machu Picchu safer for visitors!
People who participate in volunteer trips with Conservation Volunteers International Program often develop special connections to the places where they have volunteered. These bonds sometimes inspire even more extraordinary donations of time, skills or money to help the destination. One such special volunteer effort was the Medical Emergency Response Training for the Rangers and Guards at Machu Picchu in November 2019.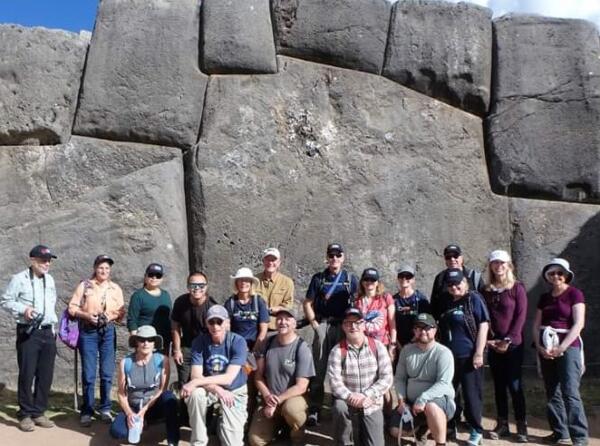 During ConservationVIP's volunteer trip to Machu Picchu in June 2019, an impromptu first responder assessment was conducted by trip volunteers Debbie Crane, RN, BSN, CSTR, and Kevin Crane, PE, JD, First Response SAR. Because so many people visit Machu Picchu, the staff at Machu Picchu must deal with multiple trauma injuries and heart attacks each year. But lack of training, medical supplies and equipment to respond to these medical emergencies was a concern.
ConservationVIP® trip leaders talked with Machu Picchu staff during that June trip and the staff expressed a strong interest in further training. Debbie and Kevin were so impressed with the ConservationVIP volunteer program and with the staff's interest in improving their ability to care for visitors to Machu Picchu, that they decided they would return to provide no cost emergency responder training to prepare the staff for medical emergencies in Machu Picchu.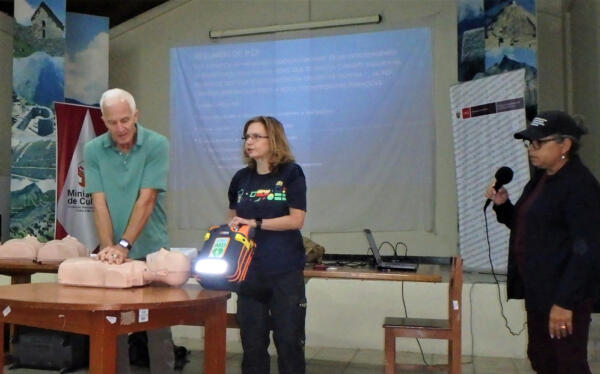 Following discussions between ConservationVIP and the Peruvian Ministry of Culture, which manages the Machu Picchu sanctuary, a program of Medical Emergency Response training was arranged to take place on November 20 – 21, 2019 led by the volunteers, Debbie and Kevin Crane. ConservationVIP trip leader Millie Flores-Roman arranged the logistics for the medical training trip and acted as Spanish language translator during the training.
A total of 105 Machu Picchu staff members attended the training over the two-day period. They received training in immediate response protocols and procedures related to common medical emergencies experienced by visitors to Machu Picchu. Before the training, Debbie and Kevin solicited donations within the USA which enabled them to bring a large quantity of much needed and difficult to obtain emergency medical supplies to the training sessions.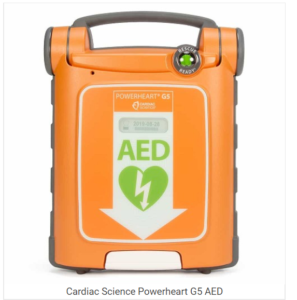 Thanks in part to a generous donation from another one of the June 2019 volunteers, during the November Emergency Response Medical Training, ConservationVIP was able to donate a defibrillator to the Machu Picchu Sanctuary for emergency treatment and care of visitors. You can see the complete list of items donated, plus read more details about the training here.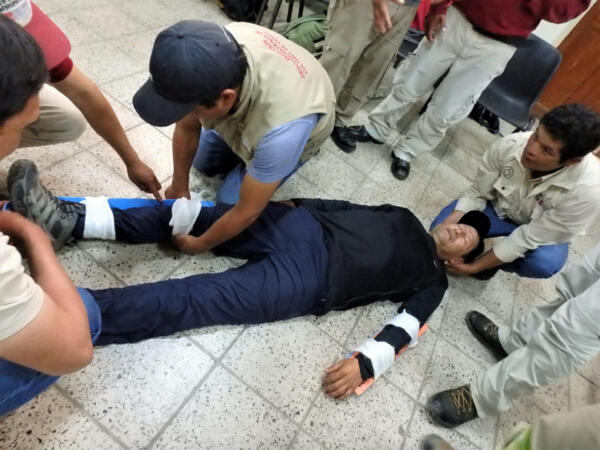 Thank You to two very special volunteers, Debbie and Kevin Crane. Your generous donation of time, training, and medical supplies will help to protect visitors to Machu Picchu.