As ecotourism increased, Torres del Paine National Park's resources became severely strained. Every year after the snow melted, Park rangers had to re-establish hiking trails through the deep gorges ("quebradas") on 'the Circuit' — the major trail in the park. A bridge on the first gorge, near the foot of Grey Glacier, was high on the Park's list of urgent needs. The bridge would greatly improve safety for hikers, offer a fantastic view of Grey Glacier, and encourage visitors to explore this gorgeous section of the Park, relieving overcrowding in other areas. But the Park simply did not have the money.
Richard Braunlich, a ConservationVIP volunteer, structural engineer, and hiking enthusiast, volunteered hundreds of hours helping the Park build this bridge. First he completed a site survey in 2009. He then prepared detailed designs for the suspension bridge. Here is a sketch of his design: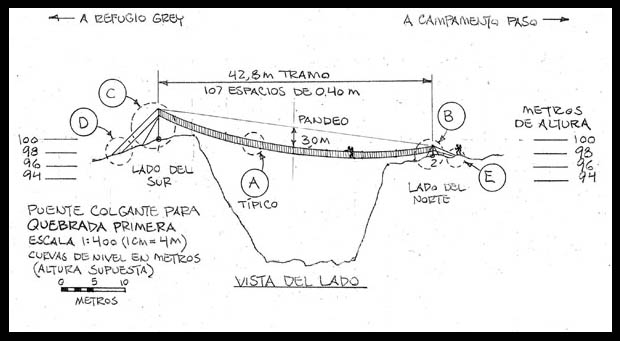 In 2010, we raised more than US$11,000 to fund construction of a pedestrian suspension bridge over the quebrada. A $7,500 grant came from the Tourism Cares Foundation, and ConservationVIP collected more than $3,700 from generous individuals.
Richard spent six weeks in late 2011 in the Park, working with Chile's National Park Service (CONAF) on the initial phase of construction. During this first construction phase, the two towers for the suspension bridge were built. To see photos for this phase, check out the photo album on our Facebook page. To read our report to Tourism Cares about the construction completed in 2011, click here.
The final construction was completed in January 2013. During this second phase of construction, the cable was draped across the quebrada, the rock anchorages which hold the cables in place were built, and the deck was laid. Check out the completed project on our Facebook page.
What Was Next?
The Second Quebrada farther north on the trail had a worse crossing! In early 2015, we tackled this problem.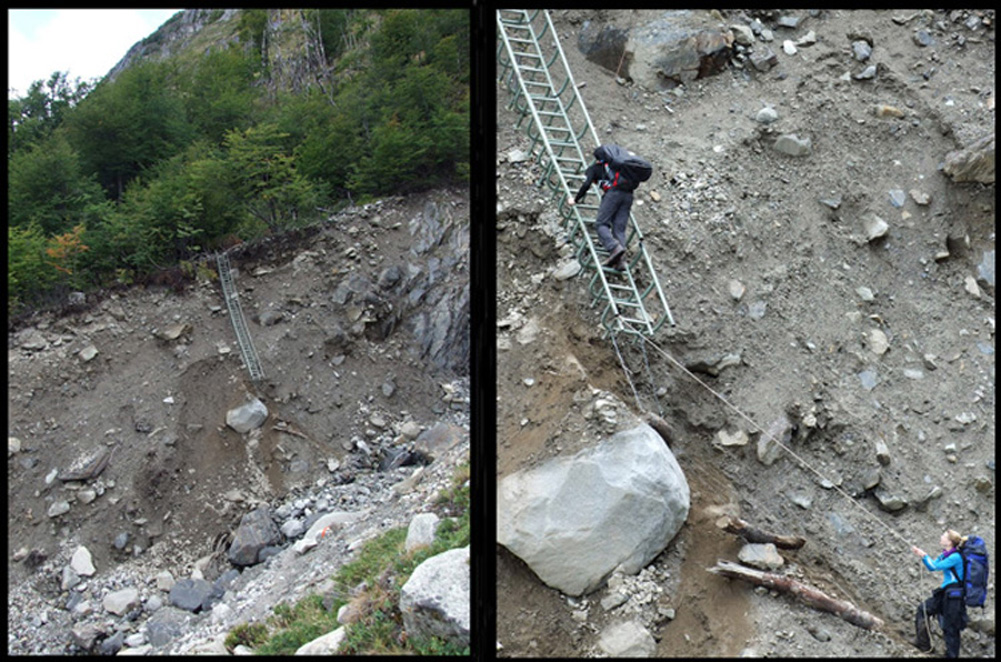 See the Bridge over the Second Quebrada project.
Come see Torres del Paine National Park for yourself!
More Info
Torres del Paine has been designated a Reserve of the Biosphere by UNESCO because of its exceptional ecological significance. Dramatic granite mountain spires, spectacular glaciers, and haunting winds draw tourists from around the world. The park is home to the guanaco, the Andean condor, the endangered huemul, and the elusive puma. For more information, see our Torres del Paine Volunteer Trip.