Volunteer in Costa Rica: Pura Vida!
Experience conservation in the land known for its progressive environmental policies and rich biodiversity.
Help protect the area's biodiversity by participating in a sea turtle preservation program on the Burica Peninsula on the southern Pacific coast of Costa Rica. Along the way, we will work at an almond tree nursery to help support the endangered Scarlet Macaws and help at Hacienda Baru National Wildlife Refuge.
Costa Rica Volunteer Trip Details
Look through the tabs below or click on these links to learn more about the project, the itinerary, the price and safety or to read trip reviews and prior trip reports.
The Costa Rica Project work will focus on protecting endangered sea turtles that nest in Costa Rica. Global populations of sea turtles have decreased significantly in the last 30 years. While there were once many species of sea turtle, only seven remain today, and all of them are either threatened or endangered, two of them critically.
Our Costa Rica Volunteers will help protect the sea turtles which nest on the beaches in the community of Punta Banco located on the Burica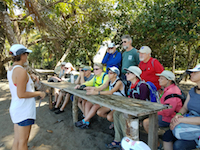 Peninsula, 65 km south of Golfito, along the southern Pacific coast of Costa Rica. Project work will consist of late night and early morning beach patrols to locate, excavate, and relocate sea turtle nests to a protected turtle hatchery. Projects will include working in and around the turtle hatchery, recording scientific data, as well as beach cleanups inside the project area and surrounding rivers and beaches. The sea turtle projects will be carried out under the auspices of the Punta Banco Sea Turtle Conservation Project, a part of the Punta Banco Neighborhood Association's responsibilities.
In addition to the sea turtle projects, the volunteers will assist in an almond tree nursery in Tárcoles. The red almond seed contributes to the coloring of the Scarlet Macaw and is their main source of food. The group will also help with trail maintenance or other projects at Hacienda Baru National Wildlife Refuge.
Because local conditions and the project needs continually evolve, please remember that detailed project plans are often finalized or revised after the group arrives and the trip leaders review the conditions at the site and consider the capabilities and special interests of the volunteers. Volunteer trips offer the opportunity to experience the land in a unique way not available to the average tourist.
Look through the tabs on the left for more details about the itinerary, price and gear list or to read reviews and prior trip reports
IMPORTANT NOTICE Day 1 is the day you should plan to arrive at the meeting point for the trip. This may require departing your hometown one or more days in advance and traveling on an overnight flight.
Day 1 Meet the group in San José, Costa Rica.
Welcome to Costa Rica! Our trip begins at 5:00 p.m. with an orientation where you'll get acquainted with your ConservationVIP® trip Leaders and fellow volunteers and get an overview of the exciting week ahead. Our group meets at the Day 1 hotel in San José, Costa Rica. After the orientation briefing, the group will share its first dinner at the hotel (dinner and hotel lodging included).
Day 2 Travel to Savegre on the Pacific coast, stopping along the way at the Rio Grande de Tárcoles to work on the Scarlet Macaw's habitat.
After breakfast, we will load up our gear, board our private bus and drive for approximately 1-½ hours to an area near the Pacific coast of Costa Rica. We will cross the Río Grande de Tárcoles and walk along the bridge to see the crocodiles. We will then drive into the Tárcoles community where we will begin work on an almond tree nursey. Almonds are the main food source of the endangered Scarlet Macaw. In the afternoon we will drive to the Hacienda Baru National Wildlife Refuge. Officially declared a National Wildlife Refuge in 1995 by the President of Costa Rica, it is located in Savegre, near Dominical, along the Central Pacific Coast. Here we will check into our hotel and perhaps enjoy a short trail walk before dinner. (All meals and lodging provided).
Day 3 Volunteer at the Hacienda Baru National Wildlife Refuge and then Drive to Punta Banco.
After breakfast, we will begin our work projects within the refuge. We may spend the morning clearing underbrush or maintaining trails, sandbagging around the almond tree nursery, or assisting with other refuge needs. After lunch, our bus will take us on a 3-hour drive to the end of the road in southern Costa Rica where we will check into our lodging for our five-night stay in Punta Banco. We will stop along the way to view wildlife and stretch our legs. In the evening, we will have an orientation briefing on the volunteer work projects ahead. (All meals and lodging included).
Days 4 – 7 Sea Turtle Conservation Projects in Punta Banco
During these volunteer project days, the group will participate in late night and early morning beach patrols to locate, excavate, and relocate sea turtle nests to a protected turtle hatchery. Project work will also include working in and around the turtle hatchery, painting signs, recording scientific data, as well as beach cleanups inside the project area and surrounding rivers and beaches. (All meals and lodging included).
Day 8 Journey to the Costa Rica Highlands
After breakfast and morning volunteer projects, we will say goodbye to our Punta Banco partners and journey north to the highland forest area near Cerro de la Muerte. This region is very likely the best place in the world for observing resplendent quetzals, birds so spectacularly beautiful they were considered divine entities by the ancient Aztecs and Mayans. We will have lunch along the drive, then continue to our hotel in Cerro del Muerte. (All meals and lodging included.)
Day 9: Build quetzal nests, then return to San José
In the morning after breakfast, we will build quetzal nests that will be placed within the quetzal protection zone. After lunch, we will drive to our hotel in San José, approximately 3 hours away,  where we check into our hotel and will share a final dinner together in the evening. (All meals and lodging included.)
Day 10: Complete your trip to Costa Rica
The Costa Rica Volunteer Trip ends with breakfast. You may transfer to the San José airport for homeward-bound flights or opt to extend your stay in Costa Rica.
Note: Although we do our very best to adhere to the schedule above, the itinerary is subject to change for numerous reasons beyond our control, including changes in the local project needs, weather, and terrain conditions.
IMPORTANT NOTICE REGARDING AIR TRAVEL: Before purchasing your airline tickets, please check with us to ensure the trip has the necessary minimum number of participants required to operate.
$2,995 per person double (or more) occupancy for ten days; single supplement $600 (subject to availability – see below)
(Note: Your trip expense may be tax-deductible. Please see our Frequently Asked Questions page and consult your tax adviser for details.)
Price includes:
all meals from dinner on Day 1 through breakfast on Day 10
all lodging: The lodging in Punta Banco may have up to 5 people per cabin; all other hotels are double occupancy, unless a single supplement is requested
all transportation as noted on the itinerary
gratuities for services provided to the group
project leadership and support staff
group tools
orientation and training
Price does not include:
travel costs to and from San José, Costa Rica
medical immunizations
excess baggage charges
alcoholic beverages or soft drinks
personal items
Payment terms:
A deposit of $500 per person is required at the time of signup; final payment is due at 90 days prior to departure. The payment and refund policy can be found here.
Group Size: 8 – 12 plus trip leaders
ConservationVIP
Average rating:
16 reviews
Nov 7, 2022
Costa Rica Volunteer Trip Oct 2022
This was a great experience! The group was very cohesive and fun, the leaders were all very enthusiastic and grounded. Amazing wildlife and good food were bonuses that made each day a pleasure, even with all the rain! Thanks!
Nov 5, 2022
Costa Rica Volunteer Trip Oct 2022
Educational, meaningful opportunity to leave this planet a little better for having lived on it. Conservation VIP communications and logistics are well executed, and the service projects are integrated into the communities served. This is seamlessly coordinated by the Costa Rican guide, Marco. His personal commitment to and extensive experience in ecological restoration and his deep knowledge of his country's geology, history, culture, flora and fauna provide an intimate insight afforded to few foreign travelers. Hats off to Sergio, our competent and kind driver, and to Kelly and Janice for their patient and compassionate leadership,
Oct 30, 2022
Costa Rica Volunteer Trip Oct 2022
Amazing trip! Great balance between learning about the beautiful country of Costa Rica and working for it's wildlife conservation. The work with macaws, sea turtles, and quetzals was sometimes challenging, but the reward was in seeing all these animals and more, up close and in the wild. Marco, our Costa Rican guide, has an encyclopedic knowledge of his country, the environment, history, and the animals - there wasn't a question he couldn't answer and his discussions really added depth to the experience. Our Conservation VIP guides were organized yet flexible, invaluable given the dynamic environment of the country and the sometimes capricious nature of our work. Definitely a worthwhile adventure.
Oct 30, 2022
Costa Rica Volunteer Trip October 2022
Great trip! Excellent guides, meaningful work and good connections to local people. Accommodations at work site could be easily improved — more hooks on the wall, a table and chair in the room and better lighting.
Nov 12, 2021
The best way to travel
What better way to experience Costa Rica than to work shoulder on shoulder with the locals to preserve the natural life of this beautiful country. I take that over the "all inclusive" resort experience any time. Great trip leaders and a wonderful group of people, all repeat volunteers. One does get hooked on this way of travel! ConservationVIP does an excellent job organizing it.
Nov 12, 2021
Costa Rica October 2021
Another fantastic trip with this fantastic organization. No matter what I say here it will not do justice to what a great organization ConservationVIP is and how amazing this trip was. One has to just be there to feel the full impact. Starting from the time I signed up for the trip, to when I left the hotel to head back home after the trip - everything was perfect. I wish I didn't have to leave there, :). Seeing the impact our work had on the local communities and their livelihoods was rewarding and is what motivates me to keep doing this.

The trip leaders Janice and Kelly were amazing. The whole trip was well organized and at no point during the trip was I wondering about what was next. Thank you to both of them.

Our guide Marco (Tex) was the best. Here again, is another instance where my words don't do justice to the real thing. One has to experience him in person to fully understand how much of a difference his presence made to our trip. He was a bundle of energy and it was infectious. His knowledge, his humor, his communication skills and most of all his uncanny ability to spot wildlife (from a moving vehicle, in the dark etc.) was impressive. I went there expecting to see wildlife but not to the extent we actually did. Thank you, Marco.

All of our local hosts and community members (adults and kids alike) at every location we visited were amazing. I felt genuinely welcomed. Getting to work side by side with them and knowing that my work there was making an impact on their lives was very fulfilling.

The food, accommodations and transportation arrangements, down to COVID testing arrangements so we can safely get back home, were spot on.

Last but not least I was blessed to have a fantastic group of fellow volunteers who worked together well. We definitely accomplished our goal of being safe, getting the work done and having fun.
The Highlight: release of the adorable baby turtles!!!!! it was so gratifying to know that we helped these little guys and gals safely start their lives on this earth.

HIGHLY RECOMMEND!!!
Nov 9, 2021
Amazing
This trip was amazing in every detail! The two trip leaders (Kelly and Janice) were always cheering us on and pointing out things we were doing that made a difference. Marco the guide was the most amazing human I have ever met. So rewarding to see what a major impact we had just by doing the simplest of things. Learned so much about the local way of life and seeing how the locals actually live/work. It was almost as if we were guests in their homes. The food was amazing and the scenery was breathtaking. Needless to say, getting to see the baby turtles and knowing what we did has a huge impact was very rewarding. An amazing trip.
Nov 8, 2021
Costa Rica November 2021
When people return from vacations they often rave about the food, the scenery, the weather, the accommodations and perhaps the wildlife sightings. When you travel with Conservation Volunteers International Programs to Costa Rica you will rave about the above and so much more!
Our great volunteer group raved about our leaders. Kelly and Janice organized, prepared and assisted with our efforts as well as assuring our safety.
We raved about our fabulous guide, Marco (Tex), whose knowledge and love for his country as well as his sharp eye for wildlife. His humor and energy was unsurpassed.
This is a trip that provides an opportunity to work with dedicated local citizens that care deeply for the conservation and sustainability of their projects. You will have the satisfaction of knowing that you have made a contribution to their efforts and you will know that you have made a difference.
The key to staying comfortable while on an active trip is layering. To get maximum comfort with minimum weight, you need versatile layers that mix and match to create the right amount of insulation, ventilation and weather protection. The gear list has been created to help you in choosing your equipment for the trip. View the Gear List.
ConservationVIP has always focused on our volunteers' safety. The COVID-19 pandemic has heightened that focus. Traveling with COVID-19 safety concerns requires some extra planning and flexibility both for trip leaders and trip participants!
Because of continuing COVID concerns, we are restricting participation on this trip to people who have received their COVID-19 vaccinations. Participants will also have to comply with any restrictions imposed by Costa Rica and your country of origin at the time of travel. While we expect that the restrictions will change between now and the time of travel, we cannot predict what those changes will be. Here is a link to the COVID information page on the U.S. Embassy in Costa Rica website
While on the trip, participants will also have to follow procedures such as mask wearing and social distancing. More specific COVID related safety instructions will be provided to those registered for the trip.

---
About Costa Rica
Costa Rica is home to a rich variety of plants and animals. While the country has only about 0.1% of the world's landmass, it contains 5% of the world's biodiversity. Nearly a quarter of the country's lands are protected by national parks and other protected areas. Visit Costa Rica to experience the rugged, rain forested landscapes, jungles, stunning coastlines, and rich wildlife including spider monkeys and quetzal birds.