Volunteer in Torres del Paine in Patagonia!
Join us to volunteer in Chile's premier park, Torres del Paine National Park!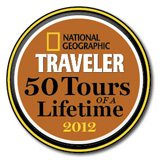 Hike the famous "W" trail on the way to "work," while you scout the sky for condors, gaze on extraordinary mountain peaks, or glance at glaciers. Since 2005, ConservationVIP® has been bringing volunteers to Torres del Paine to improve hiking trails and protect this international treasure. There's a reason National Geographic Traveler Magazine named this destination and our work there one of the top tours of a lifetime!
Torres del Paine Volunteer Trip Dates

Look through the tabs below on the left for details about the project, the itinerary, price and payment, and gear list or to read reviews and prior trip reports
One of the world's greatest landscapes, Torres del Paine suffers from soil erosion on overused trails and challenges to wildlife due to encroachment on sensitive habitats. Increasing numbers of visitors have caused unintended problems. With limited resources, Torres del Paine National Park managers struggle to meet these challenges. Our volunteers help with trail building and trail maintenance, making a significant contribution to the protection of this marvelous landscape.
No prior trail maintenance experience is required — trip leaders provide the training — and past volunteers included a wide range of ages and abilities. Tasks vary, but you should be able to hike with a day pack, move soil or rock with a shovel, pull unwanted vegetation, or carry stones. Project sites range in altitude from 500 to 2,000 feet, so while the surrounding mountains are beautiful, elevation is generally not a problem. As always, your safety is our priority.
Look through the tabs on the left for more details about the itinerary, price and gear list and to read reviews and prior trip reports
A general description of activities you can expect on the Torres del Paine itinerary follows. Please note, however, that every trip is unique. Because local conditions and the Park's needs continually evolve, detailed plans are often finalized or revised after the group arrives and the trip leaders review the conditions at the site in light of the capabilities and special interests of the volunteers. As volunteers successfully complete conservation and restoration activities, new activities or areas can be targeted, which may result in a modified itinerary.
Day 1: We begin in Puerto Natales, the capital of the province of Última Esperanza in Chilean Patagonia. After an early morning orientation meeting, we travel to Torres del Paine National Park to check into our lodging at a refugio within hiking distance of the famous Towers. On the way to our lodging, we will enjoy an excursion on Lago Grey to see Grey Glacier.
Days 2-11: This period is a combination of workdays and rest time when you can choose your own activity. We will begin with an orientation and training in all aspects of trail work before engaging in the volunteer work project.
We start each day with breakfast at the refugio. On workdays, after picking up a bag lunch, we hike to the work site. Groups of 5-6 volunteers are teamed with an experienced leader. Training in all aspects of the work is provided. We may:
rehabilitate (close) unauthorized trails
cut and move vegetative plugs to camouflage and rehabilitate abandoned trails
use a pick or shovel to out-slope the trails and build water bars to better shed water
clip vegetation with a lopper or hand saw to widen trails for safety
remove rocks from the trail tread with rock bars to reduce tripping hazards
move crushed rock or stone to create a dry walking surface
During rest time, you are free to rest in the refugio or explore the area. Many of our volunteers use these days to hike in the Park. Experienced leaders will offer suggestions for shorter or longer explorations.
Day 12: We leave Torres del Paine and travel to Puerto Natales where we share our farewell dinner and spend the night in a local hotel.
Day 13: After breakfast, our adventure ends. Trip participants may choose to return to the park, stay in Puerto Natales for further exploration, fly out of Puerto Natales to their next destination, or depart by bus for Punta Arenas or other destinations in Patagonia.
Although we do our very best to adhere to this schedule, the itinerary is also subject to change for numerous reasons beyond our control, including weather.
$3,995 for 13 days; plus $200 for single room supplement, if requested and available. (Note re single supplement: All lodging in the park is shared lodging. The only single accommodations are in the hotel in Puerto Natales on the final night)
Note: Your trip expense may be tax-deductible. Please see our Frequently Asked Questions page and consult your tax advisor for details.)
Price includes:
leadership and support staff for the trip and volunteer activities
refugio or deluxe platform camping accommodations in the Park
hotel accommodations in Puerto Natales
all meals from lunch on Day 1 through breakfast on the final day
all bus and boat transportation to/from Punta Arenas and within the Park
group tools
orientation and training
park entrance fees
Price does not include:
international airfare to/from Punta Arenas, Chile
medical immunizations
excess baggage charges
airport taxes
alcoholic beverages or soft drinks
gratuities or personal items
Deposit and Cancellation
A deposit of $500 per person is required at the time of signup; final payment is due at 90 days prior to departure. The refund policy can be found here.
Group Size: 8 – 18 plus trip leaders
The key to staying comfortable while on an active trip is layering. To get maximum comfort with minimum weight, you need versatile layers that mix and match to create the right amount of insulation, ventilation and weather protection. The gear list has been created to help you choose your equipment for the trip. View the Gear List PDF.
In addition to reading the reviews below, you may want to watch this video to hear what some volunteers said about their experiences on our recent volunteer trip to Torres del Paine in Patagonia:
ConservationVIP
Average rating:
41 reviews
Mar 17, 2020
Awesome work in an awesome location!
Service trips weed out the divas! We had a great, hardworking, fun loving group that put in 500+ feet of boardwalk and experienced sunrises, night skies and Patagonia's raggy peaks and famous winds. Excellent adventure!

Why did you choose this trip?
location

What would your advice be to potential travelers?
Break your boots in. We put in a lot of miles.

What was the highlight of your trip?
Best blustery day ever.

About Me
Casual Adventurer
✔ Yes,
I recommend this trip.
Mar 15, 2020
Adventures await you!
I went on this trip to contribute my time and energy so that others an enjoy being outside in a natural environment.

Why did you choose this trip?
Wanted to see Chile

What would your advice be to potential travelers?
Be in somewhat good physical shape.

What was the highlight of your trip?
Completion of the boardwalk project.

About Me
Casual Adventurer
✔ Yes,
I recommend this trip.
Mar 1, 2019
Great guides, fabulous natural beauty!
I just got home from this Patagonia Volunteer Vacation and feel very happy and satisfied about going. We accomplished a tremendous project - 560 feet of boardwalk on a new trail in the Torres del Paine National Park. We worked hard with a group of young Chileans and had so much fun working hard and playing hard. It was very rewarding.

Why did you choose this trip?
Because it was a volunteer trip.

What would your advice be to potential travelers?
Do lots of up and down hiking with a pack before the trip!

What was the highlight of your trip?
(Almost) completing the boardwalk.

About Me
Casual Adventurer
✔ Yes,
I recommend this trip.
Mar 25, 2018
Amazing trip!
I had an incredible time on this trip and would strongly recommend it. Our trip leaders Gene and Jon were knowledgeable, supportive, and helpful with everything. We had 2.5 free days for hiking and the trail work had views as good as anywhere on the main trail.

The work itself was very strenuous (moving rocks and using a pick most days) but we were told this was the toughest possible trail work and most groups don't do that. In addition, we had built so much trail by the end that we were walking 3.5 miles each way to the work site. While challenging, the work was extremely rewarding and enjoyable.

Our group got along well and socialized every night with beers from the modest bar. While the refugios has WiFi for a fee, almost no one actually used it, so we were able to hang out and talk phone-free, which was quite refreshing.

The trip reviews I read before always listed the food as a con. The dinners and breakfasts were a bit repetitive but large and tasty, so no one went hungry. The lunches were not as good but we found ways to spice them up with ham and cheese from breakfast.

I had a great time on this trip and would strongly recommended it to anyone looking for an active and beautiful trip!

Why did you choose this trip?
I wanted to visit Patagonia and this seemed like a great way to see the area and give back in the process.

What would your advice be to potential travelers?
Be prepared for all weather conditions and to work hard!

What was the highlight of your trip?
Spending a week outside with a great group of people and even better views!

About Me
Avid Adventurer
✔ Yes,
I recommend this trip.
Mar 18, 2018
Amazing and life changing experience
I just came back from this trip two weeks ago and have still not got back down from the absolute joy I experienced on this trip. It was an amazing and indescribable experience. No amount of positive reviews or pictures will ever do justice to how wonderful this place is than actually experiencing it yourself. The group camaraderie, the trip leaders, the local staff and volunteers were all wonderful. Everyone worked hard to contribute to the sustainability of this magnificent place. The trip was well organized, all I had to do was to get myself there, everything else after that was taken care of. The work we did was very fulfilling and I left there with a sense of accomplishment and the realization that a small part of me will be a part of that amazing place. Working with the local Chilean volunteers was also great. Even the food was not bad food, it just got routine after a while. Packing some of my own stuff helped to liven things up.

Why did you choose this trip?
I have been on two other ConservationVIP trips and knew I wouldn't be disappointed. Had always wanted to visit Torres del Paine and what better way than to do it than to go with like minded people and give back.

What would your advice be to potential travelers?
Go prepared to work hard. Make sure to take good quality hiking equipment. Additionally having an open mind is very important. Mother Nature can dictate what you can or cannot do on any given day. Be flexible and most of all have fun.

What was the highlight of your trip?
The volunteer work and the amazing team of volunteers.

About Me
Casual Adventurer
✔ Yes,
I recommend this trip.
Mar 17, 2018
Great Experience
This was the best ConservationVIP trip that I have been on so far. Yes the views and hiking were amazing, but the group of people made this trip happen. There were great people working together with a mind on conservation. This trip was so great I plan to go back and hope to see some of these folks again on other ConservationVIP trips.

Why did you choose this trip?
Patagonia is one of those places everyone should experience. This is one of the places that is very popular with everyone around the world. This trip gave you a chance to see some of the best parts of the area and stay at different locations with a variety of food, hotels, and Refugio that are blended nicely during the trip.

What would your advice be to potential travelers?
I would advise going prepared. Good equipment is going to make this trip so much better. Trekking clothes and great socks will make a huge difference on this trip. Bring a good quality sleeping bag and the right jacket.

What was the highlight of your trip?
The guides and the people that had done this trip before. I hadn't expected people that had done this trip several times before but it goes to show you how great of an experience it is one someone has done the same trip multiple times before and is back to help you.

About Me
Avid Adventurer
✔ Yes,
I recommend this trip.
Mar 17, 2018
Transforming Experience
How is it possible to go on a trip to give back to the beautiful National Parks around the world and come back feeling like you got so much more than you gave? Some how transforming a trail also transformed me. It was amazing beyound words from my feeble mind.

The ConservationVIP leaders and our team were amazing people! The Chilean volunteers added energy and an uplifting perspective. Even some of the workers from the Refugio joined in on the work for a few days. Every where we went and everything we did had a aura of respect and class. Oh, and did I mention that the park is one of the most ruggedly beautiful places you will ever see.? What more could you ask for?

If you are a first time visitor to Patagonia like I was, you can't find a more convenient way to go. They take care of all the logistics, lodging, and food once you get there. This may not sound like much, but trust me - it is. All you have to do is pay your money, get yourself to the local town to meet everyone, and then work as a team to do meaningful work. This allows you to simply focus on relationships, the trail, and having fun. You cannot believe how many tears of joy were shed by most everyone on this trip. It was so hard saying goodbye to our newly made friends. Lord willing, I undoubtedly want to return for many more service trips.

There was food concerns going into this trip because I am a huge eater and I have the limitation of eating gluten-free. My needs were met very well by the Refugio and team members. Someone was always offering me something to eat or drink. Truly a special experience. Now, to understand what I am saying, you have to appreciate that you are literally at the edge of civilization, in harsh climates, and in a setting where most everyone is just passing through for the night while they are hiking. So when you are staying for more than a week, the food definitely gets redundant because they aren't used to having people there for more than a night, two at most. So don't come on this trip thinking you are going to be staying at a five star lodge, eating gourmet food, and have a guide seeing to your every need. That is not what this trip is about. This trip is about so much more than that and is about more than oneself. I feel so blessed to have been part of this trip and to have met so many great people. There is something magical and meaningful going on that you have to experience for yourself to appreciate.

Did I mention that we took a couple days off from trail building to have free days for hiking. This gave us the luxury of picking the best weather days. I am very fortunate to have done many world class hikes in my life and yet I can say the hikes to the towers and to French Valley were both epic hikes that definitely make my top 10 list. I was able to hike well over 100 miles on this trip including the hikes to and from the worksite. I hiked the whole W trail with the exception of a few redundant miles that really weren't going to add much to the experience. This is a special place and I had the good fortune of sharing the trip with special people!
One final detailed note. Make sure you are in shape when you come on this trip. I would recommend changing the effort rating from 3 stars to 4 stars if the work is being done miles away from the Rufugio. The cumulative effect of traveling to the edge of the world and then working on trails and hiking for two weeks took its toll on everyone. Some team members had to take a day or two off because their body was crying uncle. Taking a day off is absolutely fine because there are going to be blisters, sore anckles, sore backs, etc. being experienced by the team. CVIP did a great job of keeping safety the priority and making sure nobody felt like they needed to do something they weren't comfortable with during the trip.

Why did you choose this trip?
Because I wanted to give back. It was also a great way to share adventure with others. Patagonia is also a legendary location that lived up to its reputation.

What would your advice be to potential travelers?
Come be transformed and have an amazing experience with amazing people in an amazing place.

What was the highlight of your trip?
The people, the hikes, and the purpose.

About Me
Avid Adventurer
✔ Yes,
I recommend this trip.
Dec 3, 2017
Needs Improvement!
The scenery in Patagonia was magnificent, and the trail building was good, hard work. Our group worked on a trail in a remote, untraveled valley with small ponds and interesting landscape, scenery and views.
However, there was no hand-picked local guide for the trip. Despite their years of volunteering their time in the Torres del Paine National Park, our North American trip leaders from the Conservation Volunteers International Program were not very knowledgeable about the region, its topography, flora, fauna, and customs and did not help me gain a broader perspective of the region or park. The North American CVIP trip leaders did not accompany the volunteers on hikes during rest days.
I expected the North American CVIP trip leaders to be more pro-active about personal and group safety. They also lacked the appropriate language skills to be able to figure out what was going on locally and to communicate clearly. It was annoying to hear the assistant CVIP trip leader shout in English at the Chilean van driver when they wanted to stop for a view, try to negotiate the rooms and food needs in English with Chilean staff at the lodging or refugios, or communicate with the local park rangers and Chilean volunteers along the trail. The two CVIP trip leaders conveyed the attitude that it was not worth training the local park rangers and trail volunteers because we were all short term and changed from year to year. There did not seem to be hand tools available to the local park rangers for ongoing trail maintenance and repair when CVIP volunteers were gone. The two CVIP trip leaders, plus a tag-along spouse, kept to themselves most of the time, had their own agenda, were expensive and did not add value to the trip.
However, our group of volunteers worked alongside a group of enthusiastic, hard-working Chilean volunteers whose leader was swinging a pick axe, hauling gravel, and moving rocks alongside all of the trail workers. The Chileans set an example of looking out for each other, socializing, and treating us and everyone else - including the local park rangers, other travelers and staff at the refugios - with great respect. Time spent with the Chilean park rangers, volunteers and staff was a pleasure.

Why did you choose this trip?
Patagonia and the Torres del Paine National Park are spectacular destinations. The REI Adventures website advertised that the Patagonia Volunteer Vacation would provide the opportunity to learn and use trail building skills, and to learn about the region and national parks.

What would your advice be to potential travelers?
This trip did not meet expectations. Research your trip opportunties; there are many different ways to experience Patagonia. Take and use a good water filter; there are plenty of people and wildlife in the watershed.

What was the highlight of your trip?
Working alongside the Chilean volunteers and local park rangers.

About Me
Avid Adventurer
✘ No,
I do not recommend this trip.
We regret that Constant Hiker was disappointed with the trip and trip leaders. To read another perspective about the trip leader on this trip, and read what other volunteers think about the trip leader, please see the blog and reader comments at https://conservationvip.org/praise-gene-zimmerman/
ConservationVIP has always focused on our volunteers' safety. The COVID-19 pandemic has heightened that focus. Traveling with COVID-19 safety concerns requires some extra planning and flexibility both for trip leaders and trip participants!
Because of continuing COVID concerns, we are restricting participation on this trip to people who have received their COVID-19 vaccinations. Participants will also have to comply with any restrictions imposed by Chile and your country of origin at the time of travel. While we expect that the restrictions will change between now and the time of travel, we cannot predict what those changes will be. Here is a link to the current COVID-19 information page on the U.S. Embassy in Chile website
While on the trip, participants will also have to follow procedures such as mask wearing and social distancing. More specific COVID related safety instructions will be provided to those registered for the trip.
Be sure to check out our special projects page for information on the hikers' bridges and boardwalk we have built in Torres del Paine National Park.
---
About Torres del Paine
Southern Chile and Argentina share an immense, sparsely populated expanse divided by the Andes Mountains, commonly known as Patagonia. Rising from the flat Patagonian steppes with breathtaking abruptness, the craggy mountains of Chile's Torres del Paine National Park are an astonishing sight. Torres del Paine is the crown jewel of Chile's national parks.
Because of its exceptional ecological significance, in 1978 UNESCO designated Torres del Paine National Park as an International Biosphere Reserve. The dramatic granite mountain spires, the spectacular glaciers, and the haunting winds draw visitors from around the world. The ever-present allure of wildlife exists including grazing guanaco, soaring Andean condor, and the possibility of sighting an endangered huemul or an elusive puma.