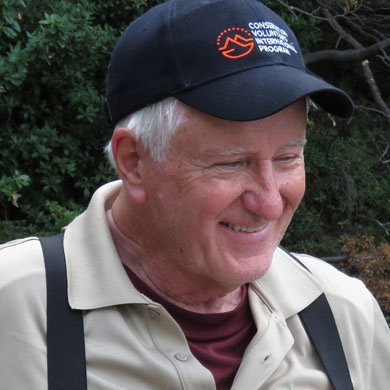 What kind of person would spend more than ten years volunteering thousands of hours for an environmental nonprofit, without drawing attention to himself and his contributions? We have such a person in our organization, and I decided this is the right time to call him out. Behind his back some people have called him John Wayne. You know the type, the big guy who doesn't say much, but when he does talk, you figure you better listen. Since he is Chair of our Board of Directors, in our Board minutes, he is officially Gene Zimmerman. But on the trail, he is just plain old Gene.
Two of our three founders, Rich Tobin and John Hollinrake, are highlighted in the video on our website which describes the origins of ConservationVIP®. I've tried to corral Gene, to get his perspective and contributions on the record, but somehow he seems to have slipped my net. So, I decided to write a bit  about him and hope it stirs up comments from others who know him, to fill out the picture. Maybe I can even prod Gene into commenting!
I met Gene when I was a volunteer on a trail maintenance trip to Torres del Paine National Park in 2007, before I became the CEO of ConservationVIP®. He was one of the trip leaders. I learned that he was from Montana, which gave him a gold star in my book, based on my love of Glacier National Park. I remember hearing that he was retired from Forest Service, but I didn't pay much attention to that. I was mainly there to see the park. As long as the trip leaders got us to and from the park safely and didn't work us too hard, that was good enough for me. When Gene, Rich and John twisted my arm to join the Board, I decided I should learn more about them and the organization before taking the leap. Only then did I learn that Gene has a very impressive history in the Forest Service, he has established other nonprofits, and he is nationally recognized for his work in establishing volunteer programs.
Over the years I've spent a lot of time working with Gene as a Board member. Most of our contact is via email and phone calls. He has weak points. The man can't type, so good luck getting more than a short paragraph from him in writing. His life is busy, so he doesn't always make the phone call when he promised. However, much more importantly, I find his experience and good judgement to be extraordinarily valuable, and I know I can count on him to step in when it really matters.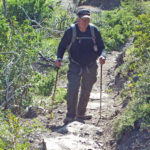 I have also worked with Gene in person on several volunteer trail maintenance trips which he has led to Torres del Paine, where I was his assistant trip leader. Gene makes trip leadership look easy. His ability to organize a project, to spot skills and match the right person to the right job, seems effortless. He quietly manages to keep volunteers safe while helping them fulfill their personal goals. Gene routinely earns top praise from our volunteers. I have learned a lot from "studying his moves". I've not been as successful at emulating them. He almost always get better reviews than I do. Clearly, he is technically more experienced and competent in the trail skills department. As far as "people management", I've seen Gene say "suck it up, buckaroo" when volunteers complain and get people laughing. I could never pull that off.
On a recent trip, I was rated as highly as Gene. Good for me, Go Chris! Or not. Unfortunately, Gene and I got the same rating because we were both rated as the worst of the worst. That was painful. Over 10 years of running volunteer trips, ConservationVIP® has never received such a terrible review for miserable trip leadership. We're human, and volunteers have wildly divergent opinions about what constitutes a good trip leader, so we occasionally fail to please people. But this experience was off the charts bad. Gene and I have spent a lot of time trying to figure out how this happened and what lessons we can learn for the future. We know what we did, what we tried to communicate, and why. That combination has more than satisfied most past trip participants, so I find it hard to place all the blame on us. I have spent sleepless nights trying to figure it out, but at the end of the day I have decided to accept that it is impossible to please all of the people all of the time.
Personally, I think I can handle the criticism better than Gene. What worries me is that Gene seems deeply hurt by it and I don't blame him. He volunteers an enormous amount of time before, during, and after each trip, freely giving his time and expertise to help the environment and to help people have a great volunteer experience. He deserves much better than he got.
If Gene had an impact on your volunteer experience – leave a note in the comments. Maybe we can gather enough kind words to show Gene how much we all appreciate him.