Peter Murphy, photographer and videographer extraordinaire, has generously shared his talents with ConservationVIP®, producing videos and photographs which vividly portray our volunteer trips. Because Peru and Machu Picchu hold special meaning to Peter, his first videos for us were focused on our Machu Picchu volunteer trip. I asked Peter to explain why he has been so willing to help us. In Peter's words:
I surfed a lot in Peru. Traveled the whole country looking for waves. Found lots of them
Before the Murphys left "middle-america" for South America, I'd been a championship swimmer. So, it was natural that I'd take to the ocean when my family moved there in 1969.
We high school teens (American School of Lima) hit the beach regularly in the summer and sporadically in the "winter". Sometimes we'd get pretty far from Lima. Our trips took us to Talara, Cerro Azul, Puerto Chicama, Silencio, Punta Rocas. Some of the legendary surfing spots in Peru, really. A few of my last days there were spent in Cuzco and Machu Picchu. So, travel got into my blood early and I've been "out there" ever since.
As a professional, I've produced tv programs from locations including Tibet, Yugoslavia, Mexico and many more countries and regions.
As a volunteer with Conservation Volunteers International Program (ConservationVIP®), I've produced video vignettes from Machu Picchu to the Virgin Islands and more, to "give back" in my own way.
Going to Machu Picchu with ConservationVIP® was a natural partnership. I'd heard from a friend that ConservationVI®P was doing good work at the Machu Picchu Sanctuary and I said to myself, "Now there's something I can get into" and use my professional talents to reach personal goals.
Since that first trip, I've produced some two dozen videos about ConservationVIP® that make for worthy viewing. I've shot more than a few still photos, too. You can click this link to see a video I produced about the origins of ConservationVIP®.
I'd been to Machu Picchu once already, in 1969. A high school graduation present from my parents. My dad lent me his medium format film camera, and I preserved the memory of that day on black and white film.
| | |
| --- | --- |
| Machu Picchu in 1969 | Machu Picchu Today |
To return and work with ConservationVIP® volunteers to help preserve the Machu Picchu Sanctuary was a dream come true. During the day we spent at Machu Picchu I tried to match some new photos to those I took back in 1969. Not a whole lot has changed, except perhaps the faces of the people who were visiting when I returned.
On our visits to the Machu Picchu Sanctuary, the first part of the adventure is to spend a day or two in Cuzco, learning about its Inca heritage and adjusting to the altitude. At 11,000 feet or so, it's a challenge for many visitors to adjust to the thin air. But the beauty and history of "Q'osco" make up for it. From the Quoricancha to Sacsayhuaman and the central square, Cuzco and its environs are delectable. And then it's on to the Machu Picchu Sanctuary.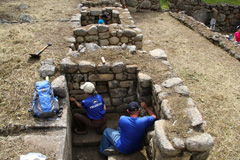 Of course, it was rewarding to be a part of restoring the Inca legacy at Chachabamba, as we laid our hands on the very buildings, altars and baths that the Inca themselves built. It was perhaps even more rewarding to work with this group of complete strangers who came together with one purpose…to preserve and protect one of the modern 7 Wonders of the World!
My particular talent lies in memorializing the work that ConservationVIP® volunteers perform, by videotaping their work and presenting their stories in video vignettes available on YouTube and elsewhere.  It's been especially rewarding working in the Machu Picchu Sanctuary, tracking volunteers, listening to them (you) talk and even sing as they fulfilled their own dreams of bringing Inca sites out of the cloud-forest and into full view for everyone.  And I was fortunate enough to be there to record much of it.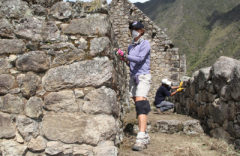 The work in the Machu Picchu sanctuary is an experience unto itself. Not many guests such as those of us with ConservationVIP® experience the unique "hands on" task of restoring actual Inca stonework. At Chachabama, volunteers were working astride the famed Inca Trail, where the Inca himself would stop to rest and pray on his way to the Sacred City high in the Andes above.
Together with Chris Braunlich, Gene Zimmerman, Ed Eads, John Hollinrake, Mark Hardgrove, Barbara Kennedy, Bill Sapp (with whom I've worked), and others with whom I hope to work, we've posted quite a few videos from Machu Picchu and other special places, plants and animals that have been restored and preserved and otherwise made more healthy by ConservationVIP® and our great volunteers.
Here's the link to the ConservationVIP® YouTube channel:
Please feel free to take a look around the YouTube channel to get a look and feel for the great work that everyone has done in the many places that ConservationVIP® has helped to preserve and restore. Keep an eye on the site because more will be coming.